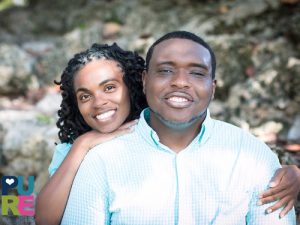 Through Pure Reality 2008, God impacted not only our lives but the lives around us. Going to Pure Reality opened our eyes to the ideal plan that God has for human beings, especially in marriage. All of the things that were presented to us on that weekend were divine and right on time for our relationship. We both were going through paradigm shifts in our lives and we were sincerely trying to be led by the Spirit of Christ in our relationship. As the Word of God was spoken through Ja'Son O'Rourke, as he broke down Genesis 1 -3 the plan for our relationship was revealed. We vowed not to hide behind the bush of darkness (Genesis 3:8) and approach The Father and each other with all of our past mistakes.
Deep and inner flaws were revealed and scars lying dormant were spoken about. After Pure Reality we walked in confidence understanding what God was calling us to a pure, sanctified relationship covered in the blood of the Savior. A year and a half after Pure Reality we decided to join in holy matrimony, and a symbolism of our love on that day was the exchange of the keys that were given to us at the Treasury Key ceremony.
Even before Pure Reality, we agreed not to get wedding bands, so the key that symbolized our purity in Christ was perfect! Pure Reality aided our understanding of the verse "Perfect love casteth out fear" (1 John 4:18), to be the start and the anchor of our marriage. By the Spirit of God via Pure Reality, we know that all doubts, fears, regrets and other negative things the enemy has placed in our lives can be done away with, not only in our personal lives but in the union God has given us.